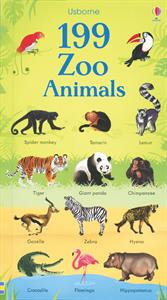 199 Zoo Animals
This item is like new.
Discover and name all the amazing animals you might spot at a wildlife park or zoo, from cheetahs and chimpanzees to lemurs, flamingos, and bush babies. Each beautifully illustrated page features a different group of animals, including monkeys and apes, nocturnal animals, and birds.

Series: 199 Things
Eye-catching picture word books in an attractive and unusual format with detailed images to pore over and name.
sale