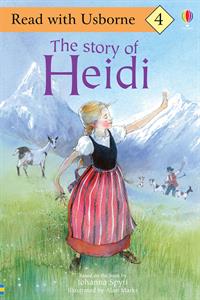 The Story of Heidi
This item is like new.
Heidi loves living with her grandfather, high in the mountains. But then her aunt arrives to drag her off to the stifling city. "I'll never forget Grandfather," Heidi promises herself. "One day I'll come back to him." Read with Usborne has been developed with the help of reading experts to support and motivate children in the early stages of reading. Clear, carefully leveled text and appealing illustrations help children progress and grow in confidence.

Series: Read with Usborne Level 4
Adapted classics or nonfiction topics, which may assume some background knowledge. Typically 2,000-2,500 words over 64 pages.
sale