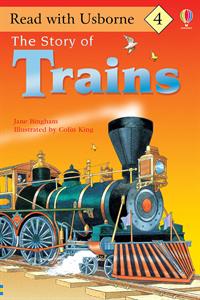 The Story of Trains
This item is like new.
Today, rail tracks cover most of the world, yet only two hundred years ago, they didnt exist. Every day trains take people to work and on vacation. They can carry cars, crates or crocodiles and even travel under the sea.Read with Usborne has been developed with the help of reading experts to support and motivate children in the early stages of reading. Clear, carefully leveled text and appealing illustrations help children progress and grow in confidence.

Series: Read with Usborne Level 4
Adapted classics or nonfiction topics, which may assume some background knowledge. Typically 2,000-2,500 words over 64 pages.
sale